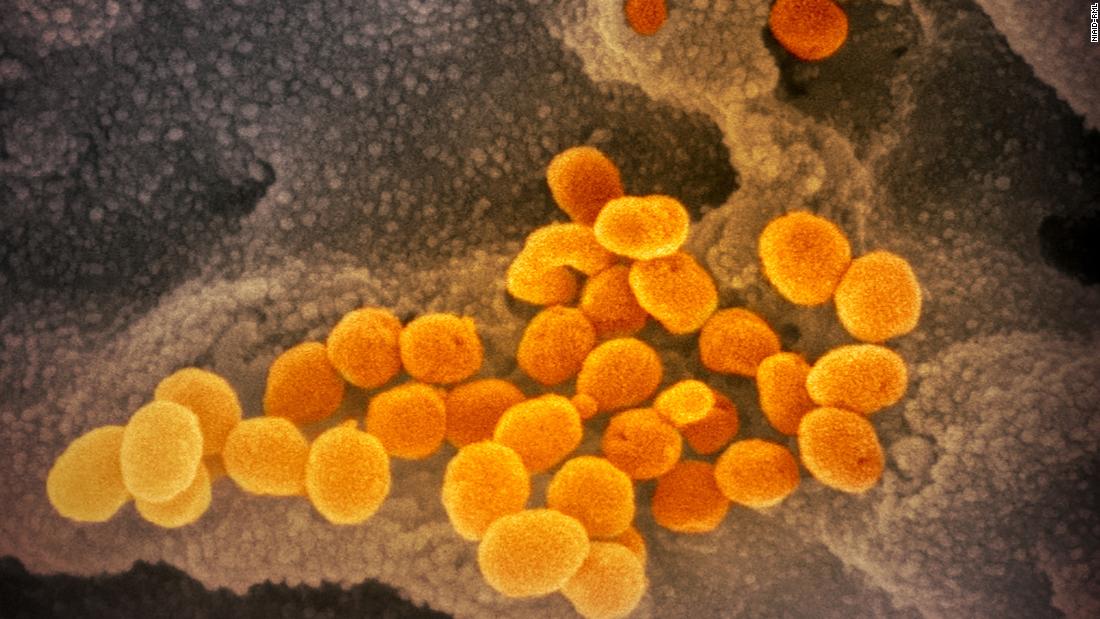 www.cnn.com
The United States has reported at least 23,524,081 coronavirus cases, including at least 391,955 related deaths, according to Johns Hopkins University's tally.

On Friday, Johns Hopkins University reported 209,560 new cases and 3,258 additional deaths. 

At least 31,161,075 vaccine doses have been distributed across the country, with at least 12,279,180 shots administered, according to the US Centers for Disease Control and Prevention.

The totals include cases from all 50 states, the District of Columbia and other US territories, as well as repatriated cases.  
Check here for the latest Johns Hopkins University US numbers
Check here for the latest US Center for Disease Control and Prevention vaccine numbers
2 hr 35 min ago

From CNN's Swati Gupta and Vedika Sud in New Delhi

About 300,000 people are set to be vaccinated in India Saturday as the country launches what Prime Minister Narendra Modi is calling the largest immunization drive in the world.

Indian officials are preparing to administer the first round of Covid-19 vaccinations on Saturday morning at more than 3,000 sites set up across the country, which is home to more than 1.3 billion people. Each site is expected to vaccinate about 100 people.

The vaccines will be rolled out in phases, with health care workers getting the vaccine first, Modi announced Saturday.

Modi addressed the nation via video conference to officially launch the first phase of the national rollout, which the government says will ultimately see 30 million health care and frontline workers vaccinated for free.
"With the courage you have shown to combat coronavirus, the same courage is required during the vaccination process," Modi said.
"Today's first vaccine being given to someone associated with the healthcare system is a way of the society paying back the debt they owe to them."
He asked the public to avoid rumors around the vaccines' efficacy, and to continue being cautious even after they had received a shot.

Two vaccines: The Indian government issued emergency approval to two vaccines earlier this month -- one from Oxford University/AstraZeneca and the other from Covaxin, which was developed locally by Indian biotech company Bharat Biotech and a government-run institute.

Recipients will not be able to choose which vaccine they receive.  

Batches of both vaccines were prepared and shipped across the country this week. India has conducted multiple dry runs for the vaccination drive since December to ensure smooth delivery. 

India has reported the second-most coronavirus cases in the world after the United States, with more than 10.5 million confirmed cases and more than 152,000 related deaths.

2 hr 35 min ago

From CNN's Ivana Kottasová

It's as if 10 of the world's largest commercial jets fell out of the sky, every day for an entire year.

The official global death toll from the coronavirus pandemic surpassed 2 million on Friday, according to Johns Hopkins University. The tragic milestone came just over a year after the first Covid-19 death was reported in Wuhan, China.

While the 2 million figure is horrifying, experts say the real death toll is likely much higher. Only confirmed Covid-19 deaths are included in the tally, which means people who die without a firm diagnosis may not be included.

With testing still inadequate in many countries, there might be hundreds of thousands of additional deaths.

Christopher Murray, director of the Institute for Health Metrics and Evaluation at the University of Washington in Seattle, said an analysis of excess mortality rates suggests that as many as one-fifth of coronavirus deaths might not be recorded.
"We have found that on average, total deaths are 20% higher than reported deaths," he told CNN in an email, adding that the ratio varied substantially across different countries.
"There are extreme cases such as Ecuador, Peru or Russia where total deaths are 300-500% higher than reported deaths... but where we have data, the average relationship is 20% higher."
3 hr 57 min ago

From CNN's Lauren del Valle

US federal guidelines recommend that smokers under the age of 65 -- considered high-risk for severe Covid-19 symptoms -- be eligible for the vaccine in early phases of distribution, frustrating essential workers lower in the priority line.

New Jersey and Mississippi are offering the vaccine to smokers under the age of 65. Several other states have included smokers among those next in line, but haven't opened the phase yet, according to a Kaiser Family Foundation analysis. 

The move to prioritize smokers over essential workers like teachers has received some criticism, though the phased rollout is in line with federal guidelines from the US Centers for Disease Control that place smoking on a list of conditions "that cause increased risk of severe illness from the virus that causes Covid-19."

The CDC's Advisory Committee on Immunization Practices advises smokers to be vaccinated in Phase 1C, although states can ultimately use their discretion in how they open eligibility to constituents. 

Phase 1C includes people 65-74 years of age, people 16-64 years of age with high-risk medical conditions, and other essential workers. Phase 1A includes health care workers and long-term care facility residents, and Phase 1B includes people 75 or older and non-health care frontline/essential workers.

2 hr 11 min ago

From CNN's Jake Kwon in Seoul

South Korea is extending its social distancing rules by 2 weeks until January 31, the country's Health Ministry said in a news release Saturday. 

A ban on gatherings of five or more people will also remain in place until the end of January, the ministry added. 

Seoul Metropolitan Area has been under social distancing level 2.5, the second-highest level, since early December, while the rest of the country has been on level 2, the third-highest level.

Under existing rules, dining in at restaurants in Seoul and surrounding areas is banned after 9 p.m. Spectators are also banned at sporting events.

These social distancing measures were set to expire on Sunday. But while the number of new daily cases is decreasing, the Health Ministry said the danger of a resurgence remains.

Minister of Health Kwon Deok-cheol said the government will review social distancing levels once daily cases fall to 400.

South Korea's cases: The country reported 547 local and 33 imported infections on Friday, the Korea Disease Control and Prevention Agency said in a news release Saturday. That takes South Korea's total reported caseload to 71,820.

Another 19 patients died, bringing the total number of deaths to 1,236.

The Health Ministry designated the first half of February as a special quarantine period in anticipation of increased traffic during the Lunar New Year festival next month.

Inter-city trains will only be allowed to fill 50% of seats, while visits to nursing facilities will be banned.

5 hr 10 min ago

From CNN Health's Maggie Fox

Health and Human Services Secretary Alex Azar submitted his resignation letter earlier this week, as any Cabinet secretary in an outgoing administration should do.

And, as many do in a resignation letter, he outlined his accomplishments.

Azar mentions the coronavirus pandemic first and it was, by far, the biggest development of Donald Trump's presidency. More than 390,000 Americans have died in the pandemic and more than 23 million have been diagnosed with the virus.

But in his letter, Azar doesn't mention those numbers, the federal government's failure to warn of a pandemic for weeks, or the delayed rollout of tests that public health experts say impacted the US response during crucial weeks that could have slowed the spread of Covid-19.

Azar does not mention disagreements over the danger of the virus -- Trump repeatedly claimed it would "disappear" -- and doesn't mention arguments over mandating or even recommending the use of masks to slow the spread.

Instead, Azar characterizes his department's actions as early and aggressive.
"While we mourn every lost life, our early, aggressive and comprehensive efforts saved hundreds of thousands or even millions of American lives," Azar writes in the letter, dated January 12. "Operation Warp Speed achieved in nine months what many doubted would be possible in a year and a half or more.

"As of this date, we have two safe and effective vaccines being administered to millions of Americans, with more vaccines likely to be authorized shortly."
Operation Warp Speed repeatedly promised 20 million Americans would be vaccinated by the end of December. As of Friday -- three days after Azar submitted the letter -- 10.6 million people had been vaccinated.

5 hr 13 min ago

By CNN Health's Maggie Fox

President Donald Trump's "actions and rhetoric" have tarnished the administration's legacy, Health and Human Services Secretary Alex Azar said in a resignation letter submitted this week.

Azar submitted the standard resignation letter for a Cabinet secretary to offer an outgoing president, dated January 12 and obtained by CNN Friday.

In the letter, addressed to Trump, Azar laid out what he considered to be the best accomplishments of HHS over the past four years.
"Unfortunately, the actions and rhetoric following the election, especially during this past week, threaten to tarnish these and other historic legacies of this Administration," Azar wrote in the letter, first reported by the New York Times."The attacks on the Capitol were an assault on our democracy and on the tradition of peaceful transitions of power that the United States of America first brought to the world," Azar added.

"I implore you to continue to condemn unequivocally any form of violence, to demand that no one attempt to disrupt the inaugural activities in Washington or elsewhere, and to continue to support unreservedly the peaceful and orderly transition of power on January 20, 2021."
Azar said he plans to stay in his role until January 20, when President-elect Joe Biden's team takes over.

5 hr 22 min ago

From journalist Rodrigo Pedroso in Sao Paulo

Brazil's Supreme Court and a federal court in Amazonas have ordered the country's government to work to immediately resolve a severe oxygen shortage in the coronavirus-hit state. 

Supreme Court Justice Ricardo Lewandowski ordered the federal government to take all actions within its power to alleviate the health crisis in Manaus, the Amazonas capital. 

Lewandowski instructed the government to draw up a "comprehensive and detailed" plan with strategies to deal with the deadly emergency within 24 hours. He also directed the government to immediately find oxygen and other necessary supplies for the Covid-19 patients hospitalized in Manaus. 

A federal court in Amazonas also intervened in the matter. A judge in Manaus ordered the federal government to immediately transfer all patients from the city's public health system who may die due to lack of oxygen to places where they can get care. 

The order issued on Thursday said it was the federal government's responsibility to send patients to other states. 

5 hr 22 min ago

From CNN's Keri Enriquez and Zachary Cohen

The overwhelming majority of the more than 20,000 National Guard members expected in Washington, DC for President-elect Joe Biden's inauguration will not be tested for coronavirus before they are deployed from states or upon their arrival in the nation's capital, a National Guard spokesperson told CNN. 

The Pentagon has authorized up to 25,000 National Guard members to help with inauguration security.

Testing for National Guard members sent to DC is "case dependent" but not widely required, the spokesperson said, noting there are some screening procedures -- such as temperature checks -- in place.

"Incoming Guard men and women are screened upon departure from their individual states and upon arrival to the DC Armory according to CDC guidelines. Temperature checks and screening questions are in place; masks and social distancing are required where the mission allows," the DC National Guard said in a statement to CNN Friday.

The National Guard encourages coronavirus testing to personnel who are symptomatic or exposed to the coronavirus.

But as CNN has consistently reported, coronavirus can be spread by people who have no symptoms and, without testing, it is impossible to know whether any of the thousands of Guard members are carrying the virus. And they are being deployed with little warning.

The troops are also arriving in large numbers with the US having had its deadliest 14 days in the pandemic. More than 3.2 million new coronavirus cases have been reported in the first two weeks of 2021, according to Johns Hopkins University data.

Earlier this week, Ohio National Guard Maj. Gen. John Harris expressed his concern for deploying the National Guard in his state.
"I'll just remind you that these National Guard folks that we're bringing on duty were doing something else just a couple days ago and had no idea they'd be coming here," Harris said during a news conference. "Bringing these folks together collectively -- it is a real concern for us."
>
Read Full Story