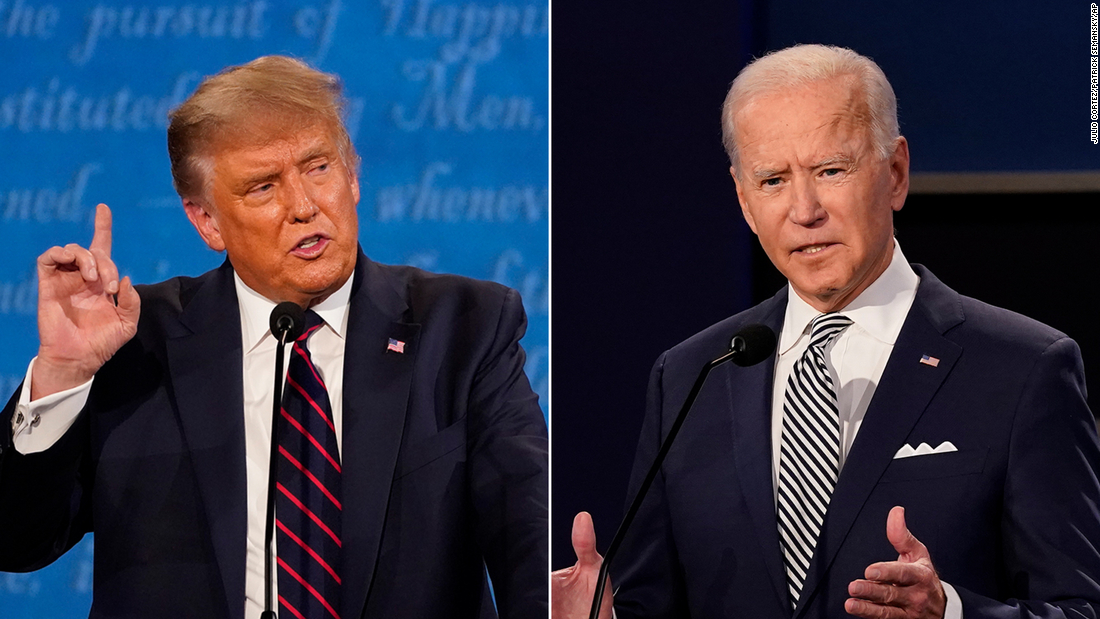 www.cnn.com
The Trump campaign on Thursday launched a broadside against the Commission on Presidential Debates with a substantial amount of opposition research, claiming that the group, which defines itself as a private, nonpartisan 501c3 organization, is not, and reiterating that President Trump does not want any changes to the rules.

Trump campaign senior adviser Jason Miller said the commission is made up of "permanent swamp monsters" and is "not representative of America as a whole."

The Trump campaign, Miller said during a call with reporters, "(does) not want any changes to what has already been laid out and what has been agreed to for the second and third debate, period, point blank."

He later added, "There shouldn't be any changes. We do not want any changes. This is purely a move by the Biden camp and their allies in the CPD."

Max Miller, who is leading negotiations with the commission, told reporters that in a Wednesday morning meeting, the Biden campaign suggested (but did not demand, he noted), "opening and closing statements, directing questions from the moderator to each candidate, limiting the open discussion from 11 minutes to almost nothing just to regain more control and structure, and the mute button issue did come up." 

Those suggestions came from Brady Williamson of the Biden campaign, he said.

Jason Miller appeared to leave Trump's participation up in the air.
Trump "fully plans on participating in and winning both the second and third debate," as does Vice President Mike Pence in his debate next week, Miller said, "but there should not be any changes to what's been agreed to and set out."
Campaign manager Bill Stepien listed a series of members of the commission and their previous comments and actions he perceived as biased against the Trump campaign. 

Those members included remarks in Nantucket Magazine from CPD co-chair Frank Fahrenkopf, Democratic contributions from co-chair Dorothy Ridings, and comments and Democratic contributions from co-chair Kenneth Wollack. He also listed off previous comments and/or contributions from board members Jane Harman, Antonia Hernandez, Rev. John Jenkins, Newt Minow, Richard Parsons, and Olympia Snowe.

"Joe Biden is a creature of this city, he's been cozying up to this city's wheelers and dealers and insiders for the last half century, and lo and behold, that's exactly who runs this commission," Stepien said.

Biden campaign spokesperson Andrew Bates responded to the Trump comments in a statement saying, "We are running our campaign, not running the debates. Since June, we have consistently said we would participate in all three debates, under rules that the CPD established." 
"Only the Trump campaign has been erratic and chaotic in their approach to this, demanding control over the selection of moderators, changes in the dates of the debates, an ear canal inspection rule, and all sorts of other insanity.  Perhaps if the President and his team spent as much time worrying about the country as they do about debate rules, he would not be trailing and would not have engaged in the desperate, out-of-control behavior — emblematic of his tenure — that he showed on Tuesday night. Our position is clear: we will participate under the CPD's rules. The only real question left is whether the President will start following the rules in the next two debates," Bates said.
Moderator Chris Wallace placed the bulk of the blame on President Trump Thursday for sending the debate into utter chaos.

Wallace told his Fox News colleague Bill Hemmer that Trump "bears the primary responsibility for what happened."
"I had baked this beautiful, delicious cake and then frankly the President put his foot in it," Wallace said. "That was frustrating," he added.
"It was frustrating for me because I tried hard to prepare for a serious debate, much more frustrating and more importantly for the American people because they didn't get the debate they wanted that they deserved."

Wallace, who said that he wished he had stepped in more seriously sooner, went on to describe the missed opportunity as "a loss for the country."

Asked by Hemmer if he had rewatched the debate, Wallace replied, "Oh, God no. Oh, God no. It wasn't something that I want to revisit. Look, it took me four years to re-watch the Trump-Clinton debate from 2016, which I very much enjoyed, and it still took me four years to look. This is going to take a while before I watch this one again."

Watch more:

From CNN's Eric Bradner, Jessica Dean and Jeff Zeleny

Joe Biden's campaign is launching an in-person canvassing effort in swing states after months of avoiding face-to-face outreach to potential voters due to the coronavirus pandemic.

The Democratic nominee's decision to go door-to-door in an effort to reach those who had proven difficult to contact by phone or online follows concerns from some party officials and activist groups that Biden was ceding an advantage to President Trump, whose campaign has been canvassing in-person for months.
"We're now expanding on our strategy in a targeted way that puts the safety of communities first and foremost and helps us mobilize voters who are harder to reach by phone now that we're in the final stretch and now that Americans are fully dialed-in and ready to make their voices heard," Biden campaign manager Jen O'Malley Dillon said in a statement.
News that Biden would begin in-person canvassing was first reported by The Associated Press.

Biden's campaign said its door-to-door efforts will follow safety measures, including providing volunteers with masks as well as checking their temperatures and completing a symptom questionnaire before sending them out. Those who live in a neighborhood will receive text messages alerting them that a volunteer is there and could be knocking on their doors.

In-person canvassing will be underway in Michigan, Nevada, New Hampshire and Pennsylvania this weekend, and begin in other states next week, a senior Biden aide said.

Visit CNN's Election Center for full coverage of the 2020 race

From CNN's Kevin Liptak and Betsy Klein 

President Trump's planned rally in La Crosse, Wisconsin, on Saturday is no longer happening in the city.

The campaign announced Thursday afternoon that the rally would instead take place in Janesville, Wisconsin, which straddles the Illinois border and claims the move was because of an issue with the venue – "We had a change of venue. There was an issue with the lease at the first location. Not covid-related. " 

The mayor of La Crosse had said on CNN earlier in the day he hoped Trump would cancel the airport hangar rally or postpone the event amid heightened coronavirus cases in the city.

Wisconsin's Democratic Gov. Tony Evers told reporters Thursday "both La Crosse and Green Bay are two of the hottest hot spots in the state and in the nation and it makes no sense to me that President Trump come for his campaign events there," referring to a recent uptick in reported Covid-19 cases in the state.

Evers added, "Green Bay fits that same category for sure and I know the mayors of both cities have asked the president not to come."

Janesville is in the task force-defined "orange zone" and is in a different part of the state and different media market from La Crosse.

Jeff Flynt, the deputy executive of Brown County, Wisconsin, where Green Bay is located, told CNN there were no changes to that rally.

"To the best of my knowledge at this time, the rally for President Trump is still going on as planned," Flynt said.

CNN's Gregory Lemos contributed to this report.

From CNN's Jordan Valinsky and Richard Davis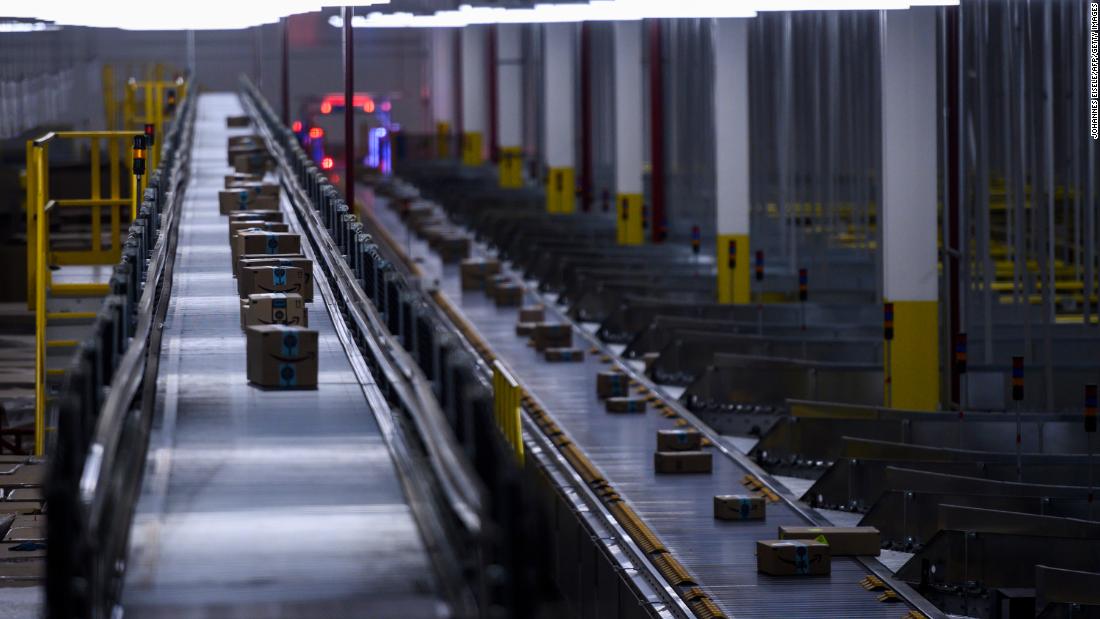 Amazon has pulled merchandise featuring the words "stand back" and "stand by," a phrase now associated with the Proud Boys, a far-right collective that the Southern Poverty Law Center says is a hate group. 
"All sellers must follow our selling guidelines and those who do not will be subject to action including potential removal of their account," an Amazon spokesperson told CNN Business, adding that the products have been removed.  
Online auction and sales site eBay also said on Thursday that it was taking steps to review and remove Proud Boys items from its site.

According to a spokesperson for the company, eBay is "reviewing and removing" the items under the company's policy that prohibits offensive materials.

The words were said by President Trump at Tuesday's debate when he refused to condemn White supremacists for inciting violence at anti-police brutality demonstrations across the country. 

"Who would you like me to condemn?" Trump asked by moderator Chris Wallace. Joe Biden, Democratic nominee, could be heard twice saying, "Proud Boys."

Trump continued: "Proud Boys — stand back and stand by. But I'll tell you what. I'll tell you what. Somebody's got to do something about Antifa and the left because this is not a right wing problem."

Some background: Members of the Proud Boys, have been seen in their black and yellow polo shirt uniforms at multiple 2020 Trump campaign rallies. Founded in 2016 by Gavin McInnes, the group is known for its anti-Muslim and misogynistic rhetoric and describes members as "Western chauvinists who refuse to apologize for creating the modern world."

The group's site argues its allure stems from the fact that young American men and women are "finished" with "apology culture" but disavows links to the alt-right or to White supremacists. McInnes is suing the Southern Poverty Law Center for designating the organization a hate group.

CNN's Maegan Vazquez and Paul LeBlanc contributed to this report.

From CNN's Ashley Killough and Ed Lavandera

Texas Gov. Greg Abbott issued a proclamation Thursday limiting the amount of drop-off locations for mail-in ballots to one site per county. 

The move significantly affects Harris County, which is the state's largest county by population and one of the largest in the country, a Democratic stronghold, and a massive area in size. It must now reduce its 11 drop-off locations down to one starting on Friday.

Travis County, which includes the reliably Democratic city of Austin, must limit its four drop-off locations to one.

Other large counties — like Tarrant, Dallas, and El Paso County — only had one drop-off location already in place.  

The governor said in a statement the order was made to enhance ballot security. It also allows poll watchers to observe the in-person delivery of mail-in ballots by voters, but it could severely limit access for many voters.  
"The state of Texas has a duty to voters to maintain the integrity of our elections," Abbott said in the statement. "As we work to preserve Texans' ability to vote during the Covid-19 pandemic, we must take extra care to strengthen ballot security protocols throughout the state. These enhanced security protocols will ensure greater transparency and will help stop attempts at illegal voting." 
The decision has already drawn fire from Texas Democrats.

The state's Democratic party chair, Gilberto Hinojosa, labeled it a "blatant voter suppression tactic" in a press release.

The group, Let America Vote, also blasted the move in a statement.

"The governor is making it harder for people to vote in the middle of a global pandemic that has claimed the lives of over 16,000 Texans. It is a shameful, blatant act of voter suppression that will disproportionately impact the large number of Black and Latinx voters in Texas' biggest counties," the group said. 

In July, Abbott issued an order expanding the amount of time for early voting by six days and for hand-delivering mail-in ballots out of safety concerns due to the pandemic.

Read up about what you need to know about mail-in voting in the US.

From CNN's Lauren Dezenski

Professional sports teams in Texas have teamed up with civic organizations, including the Texas NAACP, to help get out the vote this November.

The goal is to encourage eligible voters to prepare for and participate in the upcoming elections, with each organization working on voter education and awareness efforts. 
"This partnership recognizes our common social fabric to which we are all part and how at times such as Presidential elections we are better and stronger as a nation if we all vote and have our votes counted," Texas NAACP President Gary Bledsoe said in the announcement Wednesday. "Tune out the noise, plan your vote, and just vote."
Some of these sports organizations have also offered their facilities as voting locations, including the San Antonio Spurs' home arena, the AT&T Center. The center will serve as a Bexar County polling site for early voting days from Oct. 13-30 and Election Day on Nov. 3.

A recent Quinnipiac University poll of Texas voters found 47% of likely voters plan on voting at an early voting location, while 38% plan on voting in person, and 13% plan on voting by mail/absentee ballots.

The teams involved in the effort include:
Austin Spurs
Dallas Cowboys
Dallas Mavericks
Dallas Wings
Houston Dash
Houston Dynamo
San Antonio FC
San Antonio Spurs
Texas Legends
Texas Rangers
President Trump is expected to again defy recommendations from his own administration's coronavirus task force and guidance from local officials Saturday, traveling to Wisconsin for campaign rallies at airplane hangars in La Crosse and Green Bay.

The back-to-back large gatherings come as his own coronavirus task force is warning of "rapid worsening" and an "intense period of viral surge" in Wisconsin and calling on the state to increase social distancing.

But the President continues to show little interest in changing his campaign style to meet the needs of the moment. The Saturday rallies serve as another example of the President's blatant disregard for science and best public health practices, plowing ahead with packed gatherings in hotspots even as the coronavirus pandemic rages across the country.

Wisconsin "has continued to see a rapid worsening of the epidemic in the last week," a Sept. 27 weekly task force report obtained by CNN said. The state has the third highest case rate in the country and has a test positivity rate between 8% and 10%, the seventh highest in the country.

The task force recommended increased social distancing "to the maximal degree possible."

Wisconsin also reported a grim new milestone Thursday — 27 people died of Covid-19 Wednesday, according to the state's Covid-19 website. That is the highest death count on record for the state.  

Both rally locations, La Crosse and Green Bay, fall into the task force-defined "red zone" for metro areas ("reported both new cases at or above 101 per 100,000 population, and a lab test positivity result at or above 10.1%").

Local officials in both La Crosse and Green Bay have spoken out against the rallies.

"Any massive gathering of people that occurs without social distancing, without masking has the possibility of being a super-spreader event," Green Bay Mayor Eric Genrich told the Green Bay Press Gazette. "I don't think the President would want to be involved in something like that."

And La Crosse Mayor Tim Kabat, a Democrat, said he did not want Trump to visit and urged him to postpone at least 14 days.
"We're really hoping that we can get this event either canceled or postponed to another time based on what we are experiencing here in La Crosse," Kabat told CNN's New Day Thursday, saying his team is working to get the campaign to move the event to another location in a nearby location.
"Under normal circumstances, a presidential visit for a community like La Crosse would be an awesome thing and be welcome, but the situation that we're in of course with the coronavirus really causes us to try to protect the community's health and safety."

Wisconsin Gov. Tony Evers, also a Democrat, has called on the Trump campaign to either cancel the event or mandate masks. Kabat told CNN he does not have the authority himself to mandate the use of masks at an event like this.

Read more here.

From CNN's Jessica Schneider

South Carolina Republicans are asking the Supreme Court to step in to reverse a lower court ruling on absentee ballots — the ruling allows the witness requirement for absentee ballots to be suspended for the November election.

The request for a stay is being brought by top election officials in the state plus state Republican party leaders who are making a plea to the Supreme Court for immediate action, writing in their motion:
"Over 150,000 absentee ballots have been mailed out already, and each passing day increases the risk that ballots will be returned that, in mistaken reliance on the district court's injunction, do not comply with the witness requirement."
The federal appeals court recently upheld a lower court's block of the witness requirement for absentee ballots.  

South Carolina law requires that voters casting mail-in absentee ballots swear to an oath that they are qualified to vote and that they have received no assistance in voting when they seal and sign their ballot, and that oath must be witnessed by one other person who must sign below the voter's signature.

This is the latest petition filed with the Supreme Court in the lead-up to the November election. There are currently two petitions regarding the state of Pennsylvania's practices for absentee ballots pending, including one filed by Pennsylvania Republicans asking the Supreme Court to block a lower court opinion allowing absentee ballots to be counted up to three days after the election.
View Original Story